All welcome and no experience necessary
Packing & Sorting Session
Every session will include some time sorting donated items into our warehouse space. This will help orientate newcomers to the warehouse and inform our regular volunteers of any changes in the location of stock.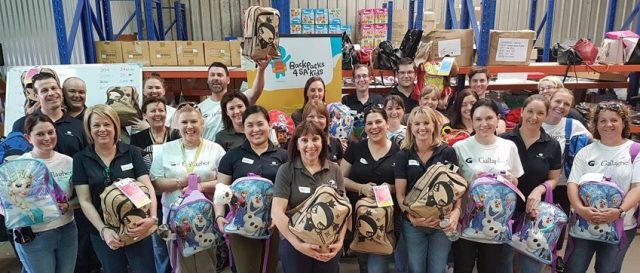 In our sessions, we sort donated stock into racks and then start packing to fulfil our orders. When we pack our backpacks, we work in teams and you are given a packing sheet to guide you/your team on exactly what is required in each backpack.
If you would like to volunteer with us, we ask that you first register via our volunteering system Volaby.
Once your application is approved you will be able to see all available sessions and join the activity you would like to volunteer for.
The next step is to then mark yourself as "available" on the date you wish to come. Once the roster is finalised, you will receive a confirmation email letting you know that you have been rostered.
Everyone* is welcome and no experience is necessary. We help orientate newcomers to the warehouse and packing is conducted in teams so you are never left to wonder how to make a backpack happen. Our warehouse is set up so picking and packing a backpack is quite easy.
Want to make a booking for your community, social, school or corporate group? For 10+ attendees, please email our team to organise a suitable day/time.
* Please note we can only accept children between the ages of 10-16 and they must be accompanied by an adult and under their supervision at all times. Unfortunately, no school groups or groups of children are allowed in the warehouse as per the guidelines set by the Government's Child Safe Environments criteria.
Session Times
Every Monday - 9:30am to 11:30am
Every Tuesday - 9:30am to 11:30am
Every Friday - 9:30am to 11:30am
Fourth Saturday of every month - 9am to 11am
Volunteering with Backpacks 4 SA Kids for the first time? Register here.
Are you a returning volunteer? Sign in to your Volaby account to book your place.